We love making uniforms for roller derby teams, and it's all done at our base in Plymouth, in the South West of England.  We aim to make the process as stress-free as possible.  No minimum order, sizing from 3XS - 6XL as standard (and we can make larger and smaller too!), free design, and a swift turnaround.  Our fabric is sweat wicking, lightweight and velcro resistant.  Want to know more?  Read on, or get in touch with us to talk uniforms for your team.  

Covid update:  Our uniform service is running as normal, with delivery times at 4-6 weeks. 
HOW DO I ORDER UNIFORMS FOR MY TEAM? 

Get in touch with us and we'll ping you over an order form for you to tell us your names, numbers and sizes.  We'd rececommend that you get in touch for a sample pack, so you and your team mates can try them on for size.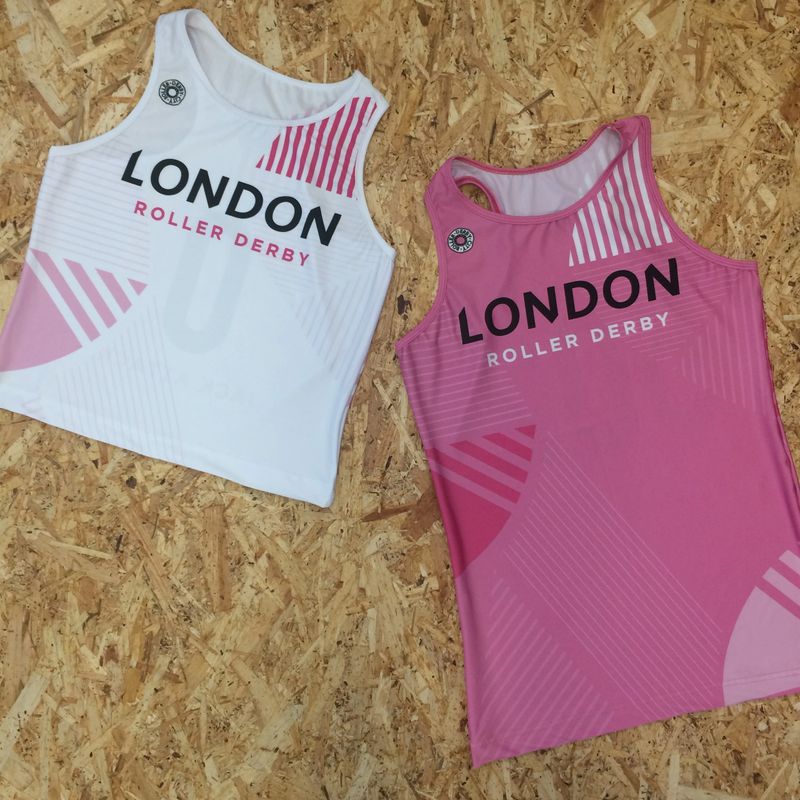 There's no charge for receiving samples, and we'll even ship them for free in the UK. If you're outside of the UK, there's just a shipping fee of £9.95.  You can also view our size guide here.
Once you've completed your order form, let us know and we'll send over an invoice, and once you've paid we'll go into production.

HOW DO I DESIGN THEM? 
We can design your uniforms for free – or you can send us your own design.
If you'd like us to design them, then you need to tell us your colours, and any accent colours you'd like included, your team logo and anything else you'd like to see. We'll then send you back some ideas and we can take it from there.
If you'd like to design your own, then just ask us for one of our uniform templates and you can get creative! We will need your designs in either a vector file (eps or ai) or a high res psd file. Please use the colour profile CMYK as this is what our equipment is set in and will give you the best colour match.

If you'd like some design ideas, then check out our or view our Instagram to see what we've made for other teams. 
DESIGN POINTERS 
If you're planning on designing your own uniforms then we'd like to recommend that you check out these handy blog posts - written by roller derby officials, these blogs ensure you think about how your design would work from an officiating point of view, preventing official brain melt down, and making them accessible to all participants with colour blindness.   Check out Zebra Skew's
6 things you should ask yourself about your new uniform
, and Errignton's
super helpful blog
on making roller derby accessible for people with colour blindness. 
WE'VE HAD OUR UNIFORMS MADE BY ANOTHER COMPANY, CAN YOU MATCH THEM? 
If you own the artwork i.e. you originally designed the uniforms or you have permission to use the artwork, then send it to us and we can use it to create uniforms to match your current uniforms. 
If you don't own the artwork to your uniforms – i.e. the company you used before came up with a unique design for you and they own the rights, then we won't be able to match it exactly, however we can match the colours used, and use your team logo and come up with a design that sits well with your previous uniforms.
So that we can colour match as closely as possible to your existing uniforms, it's usually helpful for you to send us a physical sample for us to match, and then we'll send you out a bunch of swatches to choose from so that you can be totally happy with the colours before we go into production.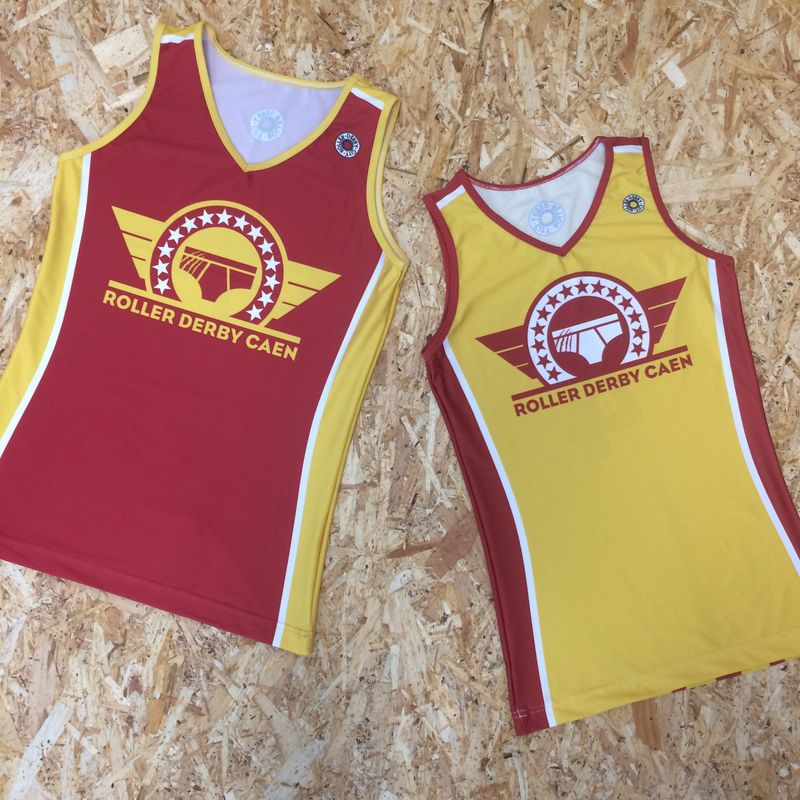 HOW MUCH DOES IT COST?
Our vests are £30 and t-shirts are £35.  
There's no set up fees, no artwork fees, and VAT is already included in all of our prices. If you're based outside of the EU then please get in touch for our tax free pricing (approx 20% less than these advertised prices). 

WHAT'S THE MINIMUM ORDER?
There's no minimum order – you can order just 1 top, perfect if you have skaters join you mid-season or a team skater wants to order a spare.

HOW LONG DOES IT TAKE? 
Once you've paid for your order, then production usually takes 6-8 weeks, however as we make our uniforms right here at RDC, we can somtimes get uniforms out faster, so if you have a game coming up sooner or need your uniforms urgently then just let us know and we can usually make them quicker.   
WHAT SIZING AND STYLES DO YOU MAKE? 
Our uniforms come in sizes 3XS – 6XL, in curve and straight sided, with 4 length options - short, regular and long, and our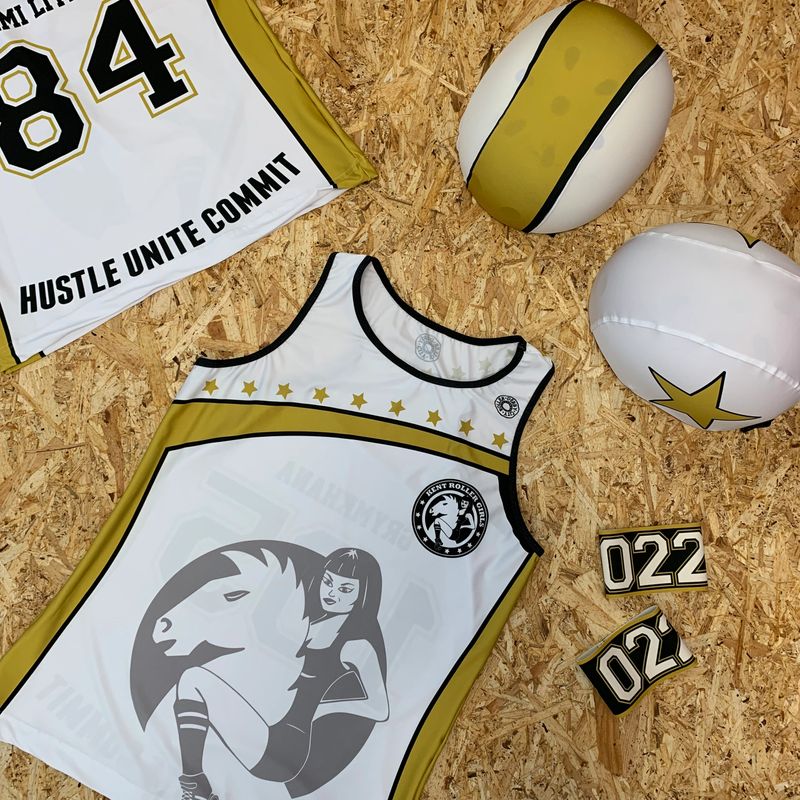 crop styles.   Our uniforms are available in tanks (racer back, standard backs) and t-shirts (round necks and v-necks). 
You can view and download a pdf of our styles here and our size guide is here
We also make helmet covers, which you can order here or we can make custom ones to match your uniform orders, as well as arm bands that you can order here, or get in touch with us for a team design.  We are adding new products to our range and you can join our mailing list here to keep up with all the new products and special offers.
WHERE ARE YOUR UNIFORMS MADE?
We make our uniforms right here at RDC in Plymouth, Devon, in the UK. This means you can be sure there's no sweatshop or child labour, our turnarounds can be pretty swift if you need your uniforms urgently and we're available during our opening hours to answer any questions you have. Bringing our uniform production in-house means we can develop new products pretty quick and tailor our uniforms to meet your heart's desire – so if you're looking for omething you can't find on our web store just get in touch
WHAT ARE YOU UNIFORMS MADE OF? 
Being skaters ourselves, we wanted to make sure our fabric is ideal for roller derby, so after copious testing with Velcro wrist guards in the office and skating in sample tops at training sessions and scrimmages we found a fabric we're pretty impressed with.  We introduced our new fabric in August 2018, and it's a blend of polyester and elastene, which is ideal for roller derby – it's lightweight, sweat wicking and, most importantly, resists Velcro. Elastene gives our uniforms stretchiness for improved fit and comfort without being super tight.
HOW ARE YOUR UNIFORMS MADE?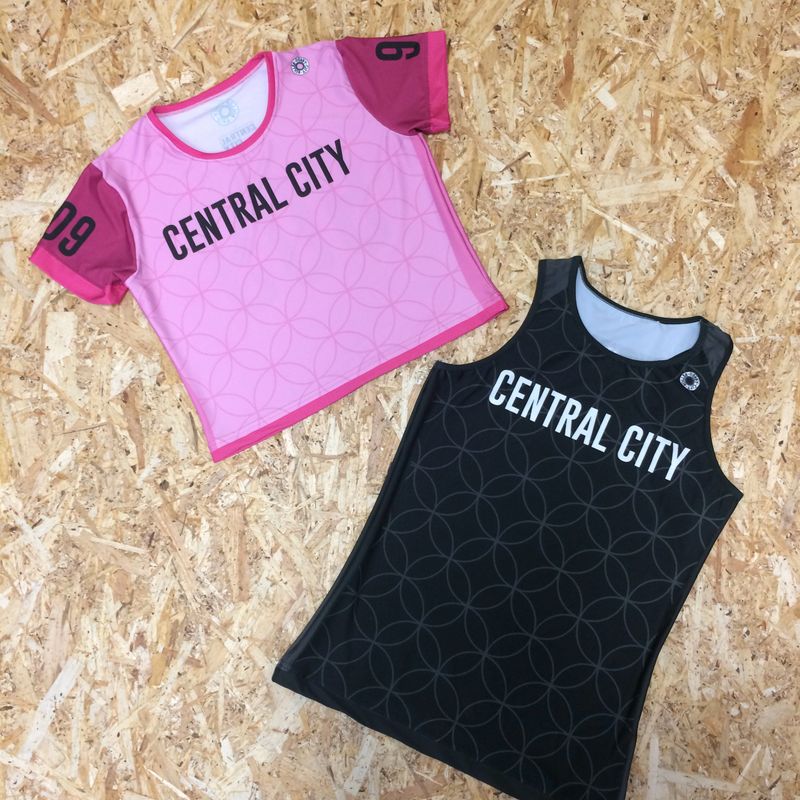 We make our uniforms 100% in-house from design (if required) to fabric printing, to sewing together.
After designing your uniforms, we print them out onto heat resistant transfer paper, using a large format ink-jet printer. The printer has 4 ink reservoirs, cyan (c), magenta (m), yellow (y) and black (k) at different quantities to create the full colour print. Using this kind of printer means there's no limit to the number of colours, logos or details in your design. Whatever we create on the computer screen will get printed out directly onto paper.
We then press the the paper onto the fabric in our mega heat press, and this permanently dyes the fabric, which gives really vibrant colours that won't fade/flake off. This kind of printing is often called 'sublimation' printing. We then cut out the pieces and stitch them together – 3 sewing machines are used to make a vest (hems, seams and binding all use different machines), and 4 are used to make a t-shirt.
CAN I ADD WFTDA, MRDA, UKRDA AND JRDA LOGOS ONTO MY UNIFORM?
Currently, WFTDA doesn't allow their logo to be dyed into our uniforms, so you'll need to sew your patches on. We have produced UKRDA, JRDA and MRDA logos on team uniforms before – we would need you to confirm that your team is a member of the organisation, and from time to time we check in with the organisations themselves to make sure that they're still happy to for us to do it.
CAN I VISIT YOU AND WATCH THE UNIFORMS BEING MADE? 
Yes! We're based in Plymouth, a small city in Devon, in the south west of England, and visitors are always welcome. We are a busy production unit so we do ask that you get in touch with us to let us know when you're coming so we can make sure there's someone available to meet you.

I HAVE MORE QUESTIONS!
If there's anything else you want to ask then just get in touch – you can message us via our contact form here or call us 01752 267 405– we love talking uniforms! We're open Monday to Friday, 8am til 5pm. Or come and talk to us at an event – we get out on the road fairly regularly and always brings samples to events for people to try on and talk to us about our uniforms