We love printing and making all kinds merchandise for teams, leagues and roller derby brands and businesses across Europe and beyond.  Being skaters ourselves, we know what teams need - whether it's merch to sell to your fans, and fundraise for your team's adventures or customised merch for your team skaters to represent when travelling to games and hanging out at tournaments.   
Covid update:  Our merch and custom merch orders are taking longer than usual, with dispatch times at approx 4 weeks.  We're also only able to take orders of 30+ garments, due to the labour intensive nature of screen printing.  
HOW DO I ORDER MERCH? 
If your artwork is ready to go then you can order your merch direct through our web store – you can check out all our garments and prices right here

If you want to mix up your order with different garments, add names and numbers to your merch or talk to us about prices then we're happy to help – just give us a call on 01752 267 405 or send us a message.
WHAT HAPPENS NEXT? 
When you get in touch to order merch, we'll ask you to send over your logo that you'd like printed and we'll mock it up on the garments you're looking to order so you can confirm you're happy with it before we go to print.
We'll also send you over an order form for you to detail the garments you'd like, the quantities and sizes. You'll also be able to tell us on the order form if any garments need to be customised with names and numbers.
When you've completed your order form, let us know, and we'll send you over an itemised invoice. Once you've paid the invoice, we will go to print, and we'll diespatch your order to you in around 4 weeks. time.
CAN I ADD NAMES AND NUMBERS TO MY GARMENTS? 
Yes – if you'd like to do this, we'll send you over an order form that you can fill out to tell us the garments, sizes, colours, names and numbers. We use google docs for our order forms so you can fill this out yourself, or share it with you league so everyone can complete their own details.
IS THERE A MINIMUM ORDER? 
Right now, because of the impact of Covid on us and our supply chains are minimum order is 30 garments, printed with the same logo.  For logos with 4 and 5 colours, our minimum order is 50.  
HOW MUCH DOES IT COST?
More colours in your logo takes longer for us to print, so the price is higher the more colours you have. The longest part of the print job is the setting up of the screens, so the more garments you order, the lower the price.
You can view all the prices of our merch in our merch store here by clicking on the products you're intersted in where you can use the drop down menus options to check out the prices for various quanitities.
Alternatively, if you'd rather to talk to a human about your order, then just get in touch with us and we'll be happy to confirm prices and options.
All our prices include VAT, and set up is free, there's no hidden costs. Shipping in the UK is free, and our shipping across Europe you can view here.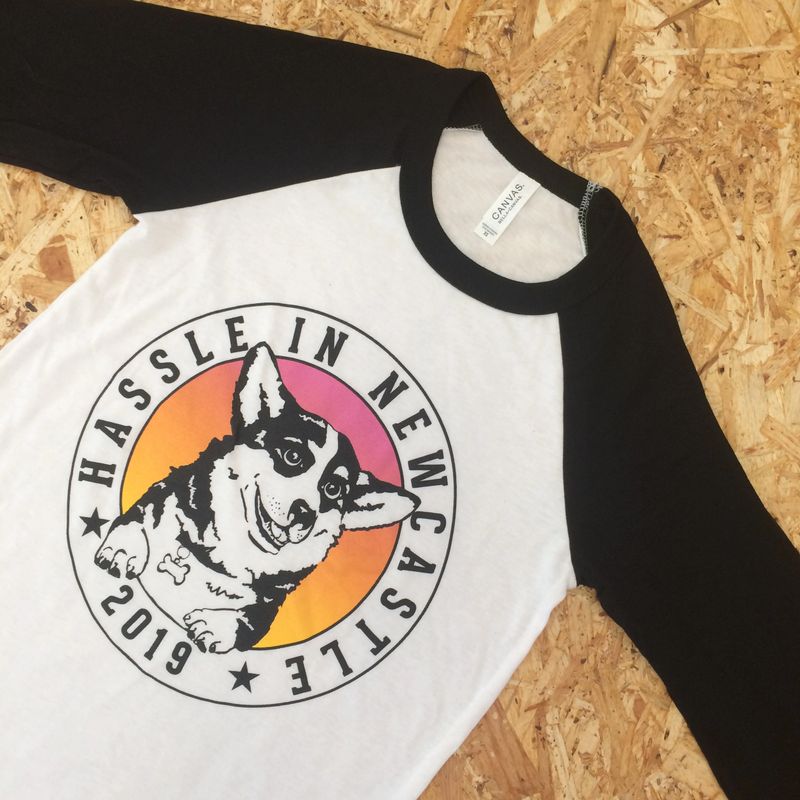 I WANT TO ORDER MERCH FOR A FUNDRAISER FOR MY TEAM, WHAT SHOULD I ORDER? 
The best thing to do is get in touch with us to let us know your fundraising goals and we'll be happy to talk through what will work best for you.  We can recommend garments/accessories that have worked well for other teams, what colours and styles are the best sellers and talk about bulk discounts to make sure that you make maximum profits for your fundraiser. 
CAN I ORDER MERCH FOR MY BUSINESS, BAND OR CLOTHING BRAND? 

Yes you can - we print for all kinds of people, not just roller derby teams.   We started out as a general printer around 15 years ago, and you can check us out at Custom Merch.  When our founder Slams started playing roller derby back in 2010, we created Roller Derby City as a separate web store to allow to focus on the specific needs of the roller derby community. 
I HAVE MORE QUESTIONS
Great! Just get in touch with us or call 01752 267 405 and we're happy to chat merch.